What are tips/tools/best practices to prepare for GRE?
Two important things we need to take care while appearing for GRE or any examination?
1) Time Management.
2) Accuracy.
Do take as many practice tests as you can. Few of the links for practice test are:
http://www.testpreppractice.net/GRE/Free-Online-GRE-Practice-Tests.aspx
Take practice tests from Kaplan and Princeton!
Khan Academy has good GRE preparation videos and tutorials:
https://www.youtube.com/playlist?list=PLPyTXGvnif5jmjWEQH18JNWZ0PIVWfJC5
Magoosh is another good site to look at.
https://gre.magoosh.com/
Few folks rated Magoosh really good. Great value for money at $100 and the content/exams are high quality.
Magoosh verbal videos are very helpful. They have explained lots of strategies and different ways to solve verbal questions!
People who are preparing for GRE can also refer the given links. This is the complete list of all argument and issue topics published by ETS.
https://www.ets.org/gre/revised_general/prepare/analytical_writing/argument/pool
https://www.ets.org/gre/revised_general/prepare/analytical_writing/issue/pool
Remember to be optimistic the whole Test! The first few questions are important. Once you get first few questions well, it builds the confidence and you will answer other questions well even if they are tough. So, relax and take deep breaths before exam and be optimistic. It's OK to take little longer to answer first few questions. Even if questions are easy, read carefully. Every word matters in a question!
Prof. Jayashree (English Professor from NY, USA) is taking a guidance session to prepare for GRE and TOEFL for our students on this Saturday (8-Oct-2016) call!
AIM (Ambedkar International Mission) has tied up with IMS in India to provide very discounted rates to needy students. Please look at the image attached for complete details of it.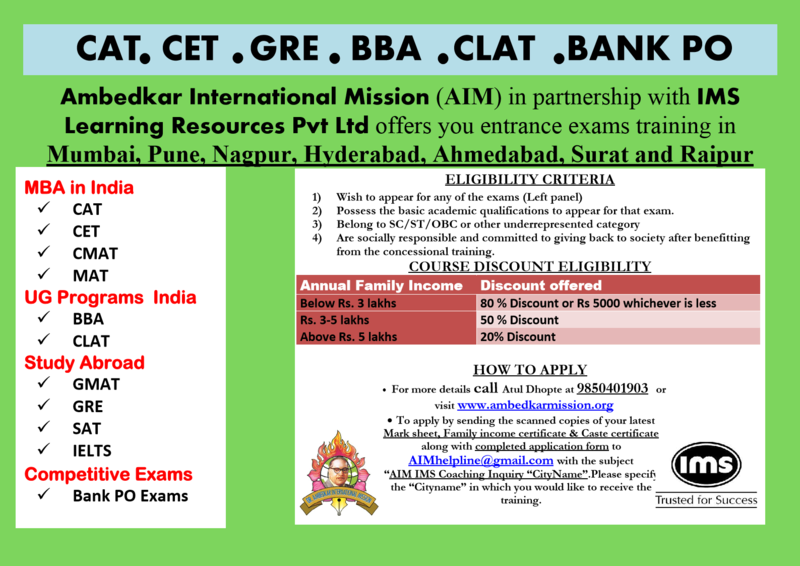 Few of the important aspects of TOEFL and GRE -
English
section preparation.
- Try to write the passage in your own words, write long passage and try to condense in few words without losing the main context .
- Four things student should mention while writing the argument essays:
1) Start with main point of the passage
2) Write about the mentioned opinion
3) Support the mentioned opinion
4) Write your opinion and support it.
-  Reading and writing should go together instead of independent execution.
-  Magoosh and ETS website are best resources for reading comprehension.
-  Read articles from New York Times (
http://www.nytimes.com/
), Washington Post (
https://www.washingtonpost.com/
), Atlantic (
http://www.theatlantic.com/
),
http://www.salon.com/
etc (websites, newspapers & magazines). Read on wide variety of subjects.
-  For understanding the ascent:  Listen audios or videos, news from CNN, BBC etc with subtitles till one get the sense of ascent.
-  Seek for broader prospect rather than just finishing the studies in abroad
Few current Students suggestions:
1) Don't mug the words
2) Understand the words
3) Find a root of word and try to categorize it into positive and negative words
4) Start the paper with reading comprehension and do the sentence equivalence, and finally text completion last
5) Take the notes while reading the passage to save the time
6) Have and Follow your own strategies at the exam center for stress management
*Don't jump at answers, the next choice may be more correct answer than before
*Improve your vocabulary (Write new words on placards - word on one side and it's meaning on other side; Use new words in your daily usage). Word Power Made Easy is nice read to improve vocabulary (Free download is available at
http://thepdfhouse.blogspot.com/2015/09/Free-Download-Word-Power-Made-Easy-by-Norman-Lewis-PDF.html).
**Test-Day Tips to Maximize Your GRE Score
http://www.huffingtonpost.com/chuck-cohn/test-day-tips-to-maximize_b_6662532.html
**Finally, PRACTICE! PRACTICE!! PRACTICE!!!


Similar topics
---
Permissions in this forum:
You
cannot
reply to topics in this forum